founders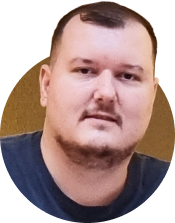 Dr. Vlad Malanin
СTO, Founder
Vlad is a scientist and surgeon. He is also the former CTO and co-founder of Grand Media, where he managed 10B monthly ad impressions. He has decades of experience in high-load, big data, AI, media compression and content delivery. Vlad is currently on track to receive his PhD at The Institute of Cybernetics of NASU and is married with two children.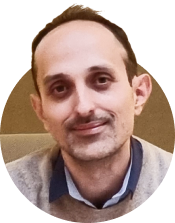 Sagi is a serial entrepreneur. The founder and CEO of AnimatAD and MasterHour, Sagi is also an awarding-winning director/producer in TV and advertising, including a notable stint as the Creative Director for Fashion TV. He is married with two children and possesses a BA in Video Advertising.
SOLVING THE INTERNET'S BIGGEST PROBLEM
Founded in Israel in 2019, SpeedSize™️ sought to solve the biggest problem facing the internet: that media compression destroys visual quality. After working in media for decades, CEO Sagi Keen was frustrated by pumping millions of dollars into media productions that were later pixelated and blurred by the internet. He couldn't help but ask the question, "Why should brands destroy the visual quality of media they present to their customers?"
COMPRESSION VS VISUAL PERCEPTION
To tackle this problem, Sagi looked for the answers with the help of CTO Dr. Vlad Malanin, who along with being a big data engineer, was a surgeon and expert in neuroscience. Vlad realized that he faced the same dilemma of page speed vs. visual quality at Grand Media, where he delivered billions of images each week.
After thorough study, they had a breakthrough. The whole media optimization industry was solving this issue from the wrong angle. It wasn't a question of better compression. The answer lay in building technology that could mirror human visual perception.
Speed VS Quality
In order for sites to load fast enough for consumers and rank high in the search engines, to achieve good Google Core Web Vitals scores, almost every image on the internet is compressed. Sites are required to load at a sustained rate, which automatically means compromised visuals. The more high-res visuals a site contains, the more the site needs to compress their media, which creates significant quality loss, greatly compromising user experience. Both the lack of visual quality and the loading lag costs big Enterprise brands billions of dollars each year.
OPTIMIZE YOUR PAGESPEED
SCRAPING AWAY DATA WE CAN'T SEE
What SpeedSize™️ discovered was that high-quality media is weighed down by information the eye cannot see, information that could be removed from files without jeopardizing visual quality in any way shape or form. This led our company to develop an entirely new technology that is able to reduce media size with both mathematical and psychovisual processes. It's a technical breakthrough in visual quality and file size only SpeedSize™️'s AI-optimization tech can achieve at scale.
After years of R&D, he was able to recreate media with no visible quality loss, but ~90-99% smaller in file size, a one-of-a-kind solution to AI-optimize bulks of media at the perfect size to quality ratio, no matter the site's scale, without any need for manual labor.
A SPEED REVOLUTION
As SpeedSize™️ continues its massive growth, the world will notice a revolution in online shopping experience. Along with automatically improving brands' bounce rates, conversions and loading speeds, the capabilities brands will have to sell products will be endless. Sharp life-like images, AR, VR and high-res videos will replace much of the stale eCommerce experiences the market has grown accustomed to. Customers will get a real sense of what products they are buying seamlessly on pages that load instantly. Beyond eCommerce, UX and user experience will be transformed across the entire internet.
As this technology continues to take over the internet, the bulk weighing down websites will be reduced. Better web experiences that require less transfer of data will become the norm. Believe it or not, this level of optimization will greatly impact the levels of electricity consumed by the internet and lower carbon emissions by the ton load for large brands.
SEE OUR SUSTAINABILITY VISION
A FAST GROWING SAAS PLATFORM
SpeedSize™️ looks forward to its next stage with our next series of funding. Our plan is to swallow the global website optimization market, becoming a media conglomerate as we make the internet faster and sharper.